Happy Monday to my blog world friends! I was pleasantly surprised to find that I have been nominated not once, but TWICE for the versatile blogger award by Adrianne at
Happy Hour Projects
and Kate at
Kate's Curios
! I can't tell you how nice it feels to be recognized and acknowledged! Thank you so much, ladies!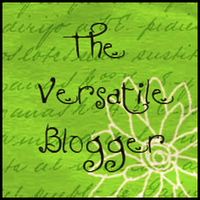 The rules after accepting the Versatile Blogger Award are:
Thank the person who gave the award and link back to them in your post.

Share 7 things about yourself.

Pass this award along to 15 recently discovered blogs.
So seven things about me:
1. My hometown has a population of less than 300.
2. I make Velveeta Fudge for the holidays. Seriously, you should google it. Phenomenal!
3. I prefer mowing the lawn to vacuuming.
4. I want to use my reusable shopping bags, but I keep forgetting to bring them to the store.
5. I am my husband's hottie girlfriend and my kids' mom.
6. I am just about to give up on craftgawker, who rejects EVERY photo I submit!!!!
7. I am super excited to co-host the
Retro Pillow Challenge
with Keren from
sew la vie
! I hope you'll check it out and grab a button!
And now for the 15 deserving blogs I would like to nominate:
I picked these blogs for one or more of the following reasons:
I am "blogger friends" with them. We email and keep up on each other's posts.

I read their posts and think about them for a long time afterwards.

I can relate to them, being crafty SAHM's like me who are trying to throw blogging into the mix!

I think they deserve more recognition for all their creativity and hard work!
Happy Crafting and big hugs from Montana!